This is a guest post by Future of Research policy activist Adriana Bankston.
I never thought I would participate in an event like this. For me and my family, science had always been a part of our lives, our work, and a way to earn a living. I never thought that I would march for science, but at the same time I was excited to stand up for something that had been such a big part of my life. And to an extent, I knew that I wanted to be a part of this historical day.
The March for Science also made me think more deeply about my role in improving the scientific enterprise. A few months ago, I wrote this post stating that I was marching to preserve science as a top priority and to give a voice to junior scientists in the process. While these goals are supremely important, I didn't quite realize the magnitude of my role in the process until closer to the date of the march.
Since the Louisville March for Science (combined with the People's Climate March) wasn't until April 23rd, I was able to follow all the other marches from around the world the day before. I was so happy to see the entire world supporting science! It was quite impressive. I tried to follow as many of the marches as I could on Twitter, while watching the D.C. march online at the same time.
The day before the Louisville march, I realized that, having left the bench over 6 months ago, I had forgotten how much I loved science in the first place. Watching these marches reminded me of that fact. It also gave a much deeper meaning to my current work on improving how we do science. Everything around us is science, and we should be thankful to our predecessors for the amazing discoveries they made before us. In turn, we now also have a duty to make our scientific discoveries both truthful and reliable for future generations.
This is also a really fascinating time to think about what this march means for the future of science, and what we want the science of the 21st century to look like. We might think the future of science is someone else's business to figure out, and that we can't possibly change it ourselves now. But this is wrong. Each of us can do our part in this larger goal, including junior scientists, who don't traditionally have a voice, but are in the best position to effect change in the scientific enterprise.
Another thing that was very obvious when watching the marches online is that science is global. Science is for everyone, and these marches (should) teach us to be united, and not divided, by science. And this is not just in our own labs, but across the world. So why are there still so many barriers? Why do we prevent certain groups from pursuing science in the U.S.? We must fight for giving a voice to underrepresented groups in science every single day, not just on the day of the march. We must act now to ensure that EVERYONE has a voice in science, and that all people are able to pursue their scientific interests without worrying about borders, whether geographical or any other kind!
Image taken from the Nature article entitled "What happened at March for Science events around the world"
On April 23rd, I was ready to march for these principles. I believe that it is my duty and responsibility to make sure these messages are heard and passed on to future generations of scientists. As someone whose goal is to effect change in the culture of science, I think a lot about what kind of scientific future we are creating today. So, I was very proud to attend the Louisville march wearing my RiffRaff t-shirt, the history of which is as follows:
"Biomedical research is a huge enterprise now; it attracts riff-raff who never would have survived as scientists in the 1960s and 1970s. There is no doubt that highly capable scientists currently participate in the grant-review process. Likewise, unfortunately, study sections are undoubtedly contaminated by riff-raff." – Steve McKnight, ASBMB President's Message
True to form, I carried with me a piece of paper with this quote in case someone asked me what RiffRaff meant. They didn't – but as I looked at the paper more, this message ended up being very motivating for me personally on that day. I realized that I was standing up for science while at the same time proudly identifying myself as scientific riff-raff.
I thought this was a very interesting (and unique) position to be in. But being the only person there with this t-shirt didn't stop me from feeling very passionate about the message I was sending. In fact, it made it even more obvious to me how strong one person's voice can be. This experience overall gave a whole new meaning to my efforts in changing science. At that moment I knew that I was marching not just to improve science, but also to empower scientists themselves to a make positive change to the practice of science.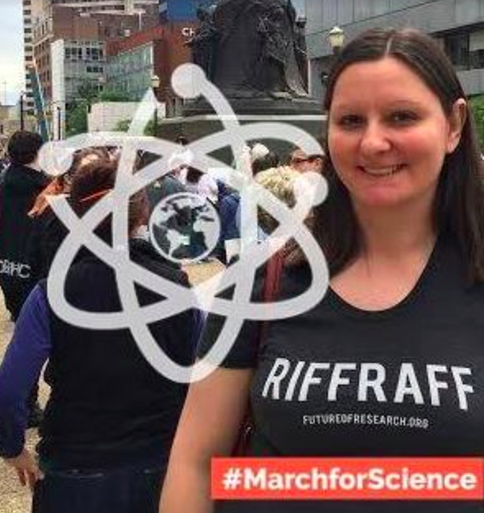 At the Louisville march, I loved seeing the different reasons people were marching. I was happy to see such a large number of people tell the world what science means to them – and that people of all ages, including kids, were marching for science! Two of the messages that stood out to me were unity and the quest for truth in science. Seeing these principles displayed on people's signs gives me hope for the future of science.
A few of the signs displayed at the Louisville March for Science
Collectively, the Louisville march had a strong voice for science that was heard loud and clear. And now, I want to pass on this message to everyone who is doing science or thinking about entering a scientific field. To budding future scientists, to junior scientists, and to the senior scientific establishment – we need each and everyone of you to drive the science of tomorrow, where unity and truth will serve as our main guiding principles.
Sign displayed at the Louisville March for Science (adapted from a quote by Margaret Mead)
Change is possible, but only if we all stand together, as we did on that day. And while the energy at the Louisville march was impressive, we can be an even larger collective voice for change. The fact that so many different types of people marched together side by side across the world for a common cause says a lot about what kind of people we are (or could be).
So let's not forget how we felt on the day of the march, and let's use this momentum to create positive change. My hope for the scientific enterprise, and for the world for that matter, is that we break down all the different types of barriers that divide us, and realize that we share a common cause, and that is the love for science. Let this be our guide as we strive to make the world a better place for all of us.