The "Advocating for Science" symposium and workshop is taking place at MIT September 16-17, 2016, to enable junior scientists to advocate for science. The purpose of the meeting is to give an opportunity to those with a passion for advocating for science to develop their advocacy skills, meet like-minded junior scientists and develop focused efforts together to effect positive change.
To try to extend this meeting beyond the Boston area, we recently put out an application call for travel scholarships for attendees from further afield. Following interviews with our Kansas City Area Life Sciences Institute Travel Award Recipient, Alex Erwin, and Advocating for Science Travel recipients Holly Hamilton, and Katherine Simeon, here is our next interview with Adriana Bankston: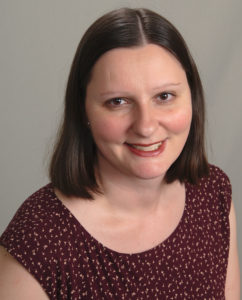 Tell us a little about your career path so far and what you are currently working on.
I obtained my PhD in Biochemistry, Cell and Developmental Biology from Emory University, where I worked in the laboratory of Dr. Grace K. Pavlath. My PhD studies showed the N-BAR domain protein, Bin3, is a novel regulator of skeletal muscle growth and repair. My current postdoctoral work in the laboratory of Dr. Ashok Kumar at the University of Louisville is focused on investigating the role of long non-coding RNAs in TWEAK-mediated skeletal muscle atrophy.
How did you get interested in advocacy work/science policy?
During my postdoctoral years, I realized that my initial goal of becoming a PI was not the ideal career path for me. I searched for opportunities at the University of Louisville to learn more about other career paths. Realizing that such opportunities were few, in April 2014, I co-founded the Career Research Advancement Focused Training (CRAFT) seminar series, sponsored by the Office of Graduate and Postdoctoral studies. The seminar series was initially focused on providing a forum for postdocs to present their work, as well as bringing outside speakers to provide insights into their career paths to benefit postdocs at the university. Since that time, we have also invited graduate students to participate in the series, which is now being run by a committee consisting of both graduate students and postdocs. Leading this seminar series has enabled me, the shy scientist, to come out of my shell, network with people from a variety of career paths, and expand my knowledge about possible career options. Most importantly, this experience ignited my passion for improving biomedical training.
Fueled by the success of the CRAFT seminar series, I now wanted to make a broader impact on biomedical training. In 2014 and 2015, I had the opportunity to co-organize a local ASCB-sponsored symposium with the goal of bringing together scientists within the Midwest Region interested in the same scientific topic, while providing trainees with opportunities to present their work and network with leading scientists in the field. This experience was deeply rewarding and made me comfortable with speaking in front of a full room of close to 100 people for an entire day. It also made me realize how passionate I was quickly becoming about providing educational programming to graduate students and postdocs.
Without realizing it, my career path was unfolding before me as I followed my passion of improving the scientific enterprise. I was now very motivated to impact biomedical training at the national level. As a member of the Career Development Subcommittee within ASCB COMPASS, I participated in planning career panels for the ASCB Annual Meeting two years in a row. I also became involved with the Resource Development Committee of the National Postdoctoral Association (NPA), which I subsequently lead as interim co-chair until February 2016. Finally, in August 2016, I joined the Graduate Career Consortium (GCC) as their first postdoc member. Overall these national experiences have been invaluable to me in building my professional network, understanding the needs of the postdoctoral and graduate student populations, and trying to find the best ways to meet those needs.
What experiences have you had in policy so far and how have they shaped/changed your scientific interests/aspirations?
While developing career resources and learning more about the scientific enterprise, my own personal experiences in science have made me realize the bigger issues in the system. I believe that the scientific enterprise faces many challenges that we must address. Beyond the idea of "too many PhDs, too few faculty positions," lack of PI funding for trainees after 1-2 years, lack of career development resources for trainees, as well as some PIs being less open to their trainees pursuing non-academic careers, are only a few of the issues that prevent graduate students and postdocs from being successful in their chosen career paths. Moreover, I believe that graduate students and postdocs, while an extremely valuable workforce necessary for science to move forward, are not treated as such.
Overtime, these issues fueled a strong desire to advocate for graduate students and postdocs and for scientific discoveries to continue, in spite of the hurdles that exist in the system. However at this point I knew very little about how to advocate for science. Via the Science Policy and Outreach Group (SPOG) at my university, I very recently learned about the importance of appealing to your local government for issues within the scientific enterprise, including science funding. To learn more about science policy and advocacy, I also took courses/webinars from AAAS on understanding the federal budget, communicating with congress, engaging in science policy, and communicating science to the public. These resources taught me that science policy and advocacy can take many forms, and may be focused on major "hot topics". I then volunteered to lead the Updates Team of the NPA Advocacy Committee, in order to ensure that NPA members are kept up to date about the latest science policy issues ("hot topics") as they arise from various resources. While I am still learning about which issues are of the greatest interest to me, I know that biomedical training will be a major component of my future science advocacy efforts.
Besides educational programming and science advocacy, I also have a very strong desire to communicate about the issues of interest to young trainees. As co-chair of the ASCB COMPASS Communications Subcommittee since October 2015, I recruit graduate student and postdoc writers, edit articles, maintain the weekly publication of the blog and share the posts on social media. Through this experience, I have also written a series of blog posts on biomedical research and training, which include articles for the ASCB COMPASS Blog and the Rescuing Biomedical Research Blog. Via the Policy, Education and Advocacy Writing Team of the NPA Advocacy Committee, I am also able to make my voice heard about various issues, such as the FLSA FAQ, which was published in the Summer 2016 edition of the NPA POSTDOCket.
What are your future goals?
I started this post by saying that being a PI is not for me, but when I started my postdoc less than 3 years ago I didn't know what else I could do with my life. My experiences in educational programming, science policy and advocacy, and science communication, have guided my career path to the essential fact that I want to help science advance in other ways than working at the bench. I now know that one passionate person can make great local, regional, and national impact on the scientific enterprise. This drive will fuel my future career, as I am motivated to fiercely advocate for biomedical scientists, for their value and for their training, while making sure that science will advance no matter the hurdles in the biomedical research enterprise.
What do you hope to get out of coming to the meeting in Boston?
I believe that as scientists it is our duty to promote each other and advocate for science to ensure the sustainability of the scientific enterprise. Attending this meeting will provide me with a thorough understanding of how to perform science advocacy, which will be invaluable for me in my chosen career path. Being able to network with people with similar interests and brainstorm how we can best advocate for science comes at a perfect time for me as I am now preparing to launch into this career path.
I would also like to continue being involved with the Future of Research (FoR) group. I think FoR is doing what all young scientists are thinking and wished someone had done for us. A group like FoR can be a tremendously strong force in advocating for science and improving the scientific enterprise. I think this meeting will give attendees a good idea of how young scientists can work together to create a focal point from which to expand our advocacy efforts both locally and nationally.
For more information, please see my LinkedIn profile: linkedin.com/in/adrianabankston, e-mail me (abankston81@gmail.com) or follow me on Twitter (@AdrianaBankston).
The photo set as the featured image at the top of the post is also from a CRAFT session.